Cheese sauce is a versatile spread that can be used to enhance the taste of everything starting from bread to broccoli. This is one of the favourite sauces of your kids. Whenever your kids get hungry between meals, you can serve them mozzarella sticks or pretzel bites with the delicious cheesy sauce in a bowl. They would love it!
While making homemade cheese sauce, you must ensure that it has a nice creamy texture and mild seasonings. Try to maintain a balance in the flavour so that it has a gentle taste. However, you can spice it up as well to give it a more vibrant taste. It strictly depends on the accompaniment and one's preferences.
Homemade cheese sauce is a delicious addition to various food items. However, you must not serve store-bought cheese sauce with everything. Many brands' products contain added preservatives and unhealthy ingredients that can be harmful if consumed every day. Instead of using cheap quality cheese sauce, consider making it at home. It is easy to make and consumes very little time. However, you can trust renowned brands like President while buying cheese as it is one of the best cheese brands available in India.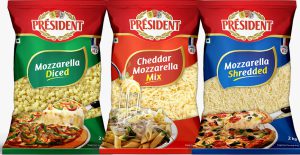 Ingredients for simple cheese sauce:
Use president unsalted butter 3 tablespoons
All-purpose flour required 4 1/2 tablespoons
Use 3 cups of heated whole milk
President Cheddar mozzarella shredded cheese 2 1/2 cup
Coarse salt
Black pepper 1/2 teaspoon
Elbow macaroni 450 gms
How to prepare homemade cheese sauce:
Step 1
Place a saucepan on the stove and set the flame to medium. Now, melt the butter in it. Add flour to it and mix properly. Now, pour in the milk and stir it a little. Bring down the temperature slightly and continue whisking until the sauce thickens. The process may take up to 10 minutes.
Step 2
Slowly start adding the cheese into the milk, about 1/2 cup at a time. Make sure that the cheese melts before you add the next half cup. Once you have added all the cheese, add 2 teaspoons salt, and pepper and stir the mix properly.
Step 3
At this point, your cheese sauce is ready. However, if you want to thicken it further, boil it a little and then remove it from the heat. Your delicious creamy cheese sauce is ready!