Cheese is widely consumed across the globe. You can get different cheese types in India as well, where each variant has a unique taste and flavour. The most commonly consumed cheese types include mozzarella cheese, cheddar cheese, ricotta cheese, and cottage cheese. While some of them have a strong and tangy taste, others have a very subtle flavour. You can use them for preparing various different types of recipes with cheese. If you are not sure which recipes with cheese you can make, mentioned below is a list of the cheesiest recipes you can consider preparing at home: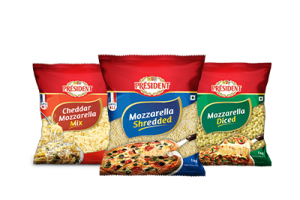 1. Cheese balls
Have you tried cheese balls? Compared to the cheese ball chips available in the market, this recipe with cheese is a better option if you are looking for the cheesiest recipes. As the name suggests, they are small round balls filled with creamy, thick, and delicious cheese. With every bite, you can feel an explosion of cheese in your mouth. Not only will it fill your mouth but also your heart and mind. Moreover, it is easy to make and a great snack for guests
2. Cheese nuggets
You will find cheese nuggets almost anywhere. If you do not want to order food from outside, you can get them as processed food as well. However, processed food or restaurant food is not very healthy. Instead of buying from stores, you can make this cheese recipe at home as well. If you want, you can experiment with the ingredients and give the outer coating an enhanced flavour. This recipe with cheese will certainly satiate your cheese hunger pangs. Always serve it hot!
3. Garlic cheese bread
If you like Italian cuisine, you must have tried garlic cheese bread. It is very commonly consumed in India. Many people prefer eating garlic cheese bread during breakfast because it is quite filling and very easy to make. Also, you only need 15 minutes to prepare this recipe with cheese. Mostly, mozzarella cheese is used for making this recipe with cheese. Garlic cheese can be used for this cheese recipe as well. You can serve it with soup to make it more filling.
4. Cheese pasta
This is one of the cheesiest recipes you can make. Depending on your preferences, you can add as much cheese as you want. There are different pasta types available in the market. You can choose any pasta type like twisted pasta or spiral pasta for this cheese recipe. In most cases, the cheesiest cheese options like mozzarella cheese or cheddar cheese are used for making cheese pasta. If you want to buy the cheesiest cheese for your recipe, only buy thick, creamy, and good quality cheese from President. It is the number one cheese manufacturer in India.