Cheese is commonly used in various recipes to enhance the taste. You will find millions of cheese lovers across the world. Although cheesemaking started from one place, people from various parts tried to recreate the recipe and ended up creating different variants of cheese. As a result, there are so many types of cheese available in the world. Since the recipes and the properties of the ingredients were slightly different from each other, the taste, texture, colour, smell, firmness, and various other properties of the cheeses were different as well. If you are a cheese lover, here are a few cheese types you should know of:
Mozzarella Cheese
Mozzarella is one of the most common and best cheese types. This type of cheese was traditionally made from buffalo milk in Italy. However, all top cheese brands now make mozzarella cheese using cow milk as well. People prefer this cheese type because of its milky flavour and subtle taste. It has a smooth texture and is used in various types of dishes. Mozzarella cheese is commonly used in pizzas, besides other dishes. You can preserve it for a week or two.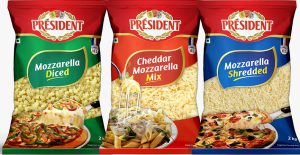 Taleggio
As the name suggests, the Taleggio cheese originated from the Val Taleggio, an Alpine valley in the Italian region. This type of cheese is a semi-soft smear-ripened cheese and is made on mountain farms. Cow's milk is used for making this cheese type along with five different moulds. The washed rind is thin and gives it a reddish colour. This type of cheese can be preserved for as long as 40 days from the manufacturing date. It has a pale yellow hue and tastes slightly tangy and salty. Many believe that this cheesy cheese is one of the oldest types of cheese made during winters.
Cotija
Many cheese lovers will be aware of this name. Cotija is a type of cheese made in Mexico and cow's milk is commonly used in the manufacturing process. This cheesy cheese is quite hard compared to other types of cheeses. However, it has a very similar taste to parmesan cheese; salty with a subtle creamy flavour. Unlike mozzarella, this type of cheese has a crumbly texture. Making this cheesy cheese is very easy. Also, you must not consume this cheese. Instead, you should give it some to gain its hard texture. It can easily last 2 to 3 months.
If you are a cheese lover and want to buy the best cheese, you must only choose top cheese brands. President is one of the top cheese brands in India and sells the best cheese. Moreover, you will get various types of cheeses at very reasonable rates.