You can grate it on your sandwich, melt it on your pizza or sprinkle it on your salad; there are so many different ways to enjoy your cheese. Craved by so many of us, it is one of the most popular dairy products out there. It adds a satisfying, creamy and nutty flavour to anything you pair it with. Typically obtained from dairy fermentation, cheese is considered to be a whole food: a food product with minimal to no processing, as close to its natural form as possible. And though it contains a high amount of fat, cheese is known for its amazing health benefits and high nutritional value. There are a number of brands that sell cheese in India, but very few offer pure and authentic cheese. Now available in India, France's best cheese brand, President is one of the leading brands that offer a wide variety of pure and authentic cheese. With President, experience authentic French cheese the way it should be.
One of the most important ingredients in the culinary world, cheese is known to be an excellent source for a variety of nutrients essential for good health. Among so many different varieties of cheese, those made from the milk of grass fed animals are considered to contain the highest amount of nutrients. Let us now take a look at the nutritional value and amazing health benefits of cheese.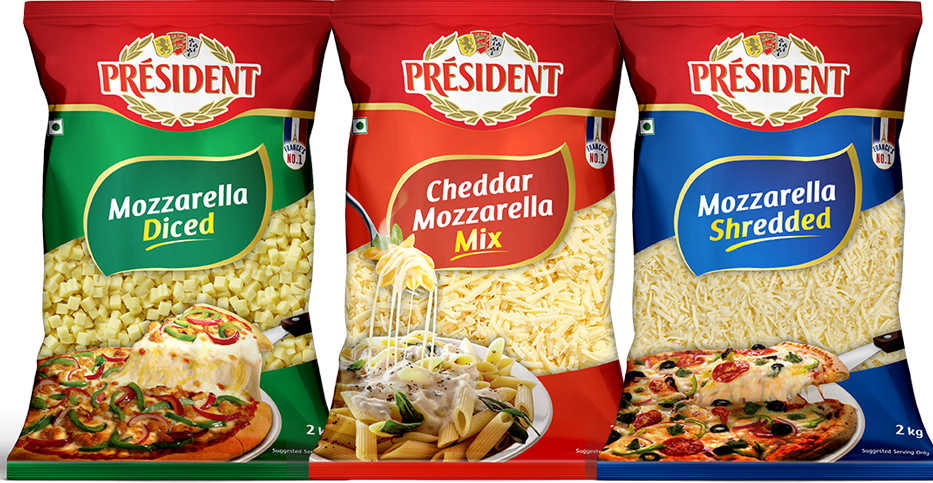 Nutritional Value
The nutritional value of cheese primarily depends on the type of cheese and how much you consume. It is an excellent source for a range nutrients like:
Calcium.
Protein.
Natural fats.
Carbohydrates
Zinc, potassium, phosphorous and magnesium.
Vitamins A, D, K and B12. 
Amazing Health Benefits Of Cheese
Promotes Heart Health
A rich source of healthy unsaturated fats, cheese ensures the proper functioning of your heart and body. Cheese contains an exclusive combination of potassium, magnesium and phosphorus, which keeps your cardiovascular system in a state of good health.
Promotes Bone and Muscle Health
A healthy combination of calcium and protein in cheese makes it excellent for building strong muscles and bones. Cheese is also rich in whey protein; a type of protein used in a range of powdered muscle-building supplements. The calcium content in cheese strengthens the bones and even prevents osteoporosis as we age. Vitamin A, D, K and zinc present in cheese are also known to promote strong and healthy bones.
Improves Coagulation
Cheese made from the milk of grass fed animals is rich in vitamin-K2, which is a nutrient our body uses to coagulate blood. Besides improving the body's ability to clot blood, vitamin K also helps maintain the health of your bones.
Reduces Inflammation
Rich in conjugated linoleic acid and sphingolipids, one of the main benefits of eating cheese includes reducing inflammation and even plays a crucial role reducing the risk of cancer. Studies suggest that cheese is also helpful in preventing heart diseases.
Improves Brain Function
To ensure healthy brain function, our body uses the fats it derives from the food we eat. A rich source of Omega 3 fatty acids, eating cheese helps to keep your brain in a state of good health and improves its functionality. 
Helps in Weight Management
An excellent source of natural fats, cheese is highly effective in weight management. Along with healthy fats, other essential nutrients present in cheese help build strong muscles and bones with a stabilized metabolism.
Boosts Immunity
Along with so many amazing health benefits, cheese is also known to boost your immunity. Fermented foods like cheese contain probiotic bacteria, which can boost gut health and enhance your body's ability to fight infections.
With its high nutritional significance and numerous health benefits, cheese serves as an excellent source for a range of essential nutrients and plays a vital role in our diet. The topmost French cheese brand, President brings to India over 75 years of French artisanship and tradition into a range of pure and authentic cheeses. Preferred by top chefs around the world, President Cheese is made from premium quality milk.